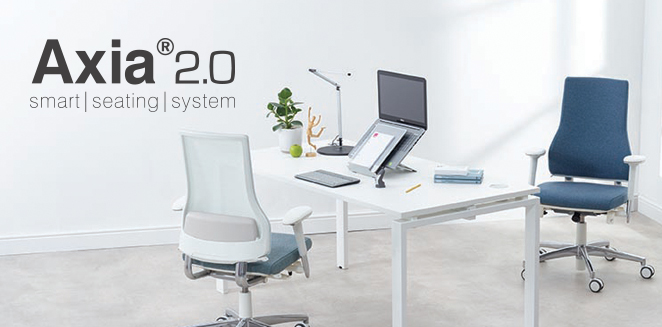 Office chairs. They seem like such ordinary objects. A seat, a backrest, armrests and a base. But a good office chair is essential for working in a healthy way! 
You know how important a good office chair is for you and your personnel. After all, their work demands they are seated for long periods, often at a desk, with a desktop computer or laptop. And it's that protracted sitting that makes their muscles and joints so sensitive to 
injury
. 
Injury you're really keen to prevent. 
Furthermore, every person has a different posture. Large or small, heavy or light, with specific requirements for sitting comfortably. And their duties and tasks are also very diverse. All that requires a chair that is very flexible in adjustment, but is also ergonomically responsible. So just about anybody can sit on it. Axia 2.0 is that chair.
The Axia 2.0 Smart chair is equipped with innovative sitting technology. Get greater posture awareness with direct seat feedback, sensors inside the chair let you know when your posture is bad and how to correct it.