The facts are simple, more people than ever before in the United Kingdom and Ireland are spending longer amounts of time in the workplace.  As far as work environments go most people would presume that the office is one of the more tame in terms of risks and dangers.  While you are unlikely to encounter wild animals or have the same level of risk as a window cleaner 40 stories up, the potential and real issues associated with office work are there to see.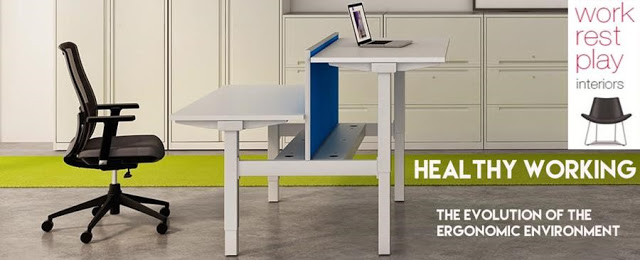 Several recent reports have shown that people are sitting too much at work and that a lot of people have consciously or subconsciously adopted a more sedentary lifestyle.  This has the potential to create issues for employees and employers alike.  Poor posture, sitting too much and not keeping the body in motion can all lead to problems such as back issues, poor circulation and weight issues such as obesity.
We at Work Rest Play have been contacted by several people in recent months regarding issues associated with Healthy Working.  This has ranged from the person using the wrong type of operator chair to enquiries about a more flexibke workspace.  Work Rest Play are champions of the Healthy Working space and have created a comprehensive solution to this 21st century problem.  Our solutions addressess the fundamental issues of the modern workspace and creates flexibility, adaptability and efficiency.

Phase One – Height Adjustable Desks
It's there in black and white, clear to see and plain as day – as a society and as a nation we are sitting too much at work and as a result are health is being affected.  It is recommended by health professional and fitness experts that we should get up from our desk at least once every 30 minutes per day and to stand for a period of time when possible.  This allows for better circulation and buys into the principle that body in motion is a healthy body.
Height Adjustable Desks allow employees to have the option of both sitting and standingand cater for everybody regardless of height and size.  Work Rest Play offer a wide range of contemporary, modern and functional height adjustable desks as a focal part of our Healthy Working plan.  The helth benefits of standing more frequently at work are clear to see and height adhustable desks which can be easily altared facilitate this necessity.  bus leo.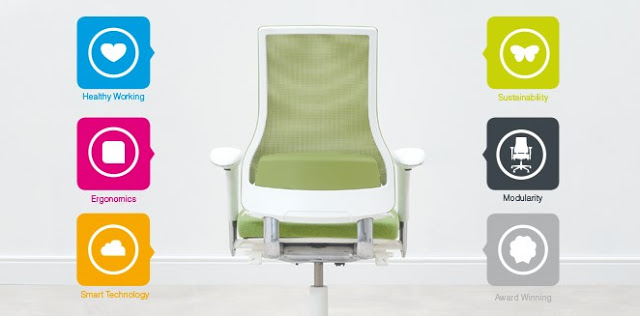 Phase Two – Superior Ergonomic Seating.
One of the most crucial aspects of creating a healthy work environment is the chair that we sit on and the way in which we sit on that chair.  Sitting too much becomes even more of an issue when we are sitting incorrectly, poor posture can lead to multiple health problems such as spinal and limb problems.  Thankfully, the latest operator chair from Work Rest Play, the Axia 2.0, solves all of our seating problems.  The Axia 2.0 uses Smart Technology to teach us proper posture, provide feedback on our sitting habits and prompt us to get up out of our chair every 30 minutes through the use of integrated techbology.
The Axia 2.0 offers a range of support including lumbar and, uniquely, pelvic support.  The majority of ergononic operator chairs will offer lumbar support as standard but will not provide any to the pelvis.  The unique system that is integral in the Axia 2.0 offers that additional pelvic support which is crucial to comfortable and health benficial sitting.  Winner of multiple design, quality and ergonomic awards the Axia 2.0 is the next step in the evolution of ergonomic and is central to our Healthy Working ethos.

Phase Three – Creating the Ideal Environment
With your desk and chair established and your environment becoming suitably more health conscious the only thing left to do is surround yourself with the latest in ergonomic, innovative and flexible office accessories.  Work Rest Play offer a wide range of innovative office accessories such as the Jellyfish laptop stand which allows for a higher screen encouraging better posture and a more aligned body when working.
The Flo Arm is a versatile monitor arm allowing the user to avail of a more fluid and accessible work environment.  The Flo Arm can hold multiple screens and can be maneouvred in many ways to alow full functionality.  One of the latest additions to our innovative range is the Aircharge, a wireless charging solution that makes your workstation more innovative, flexible and free of clutter.  The Aircharge has been installed in many places to great effect and can easily be integrated into our wide range of desking and tables.