Your Own Workspace: Working from home comes with its unique set of challenges and that is why the first step is minimising these as much as possible.  A dedicated home office or workspace will help you to focus, reduce distractions and allow you to replicate your usual working environment as much as possible.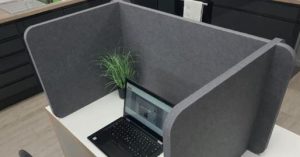 Away from the Noise: Whether its the kids, your partner or other family members, working somewhere that other people are living can be tough. Reducing noise distraction as much as possible via means such as headphones or acoustic screens will help make working from home that much more effective.
Importance of a Routine: The significance of a routine when working from home is paramount, replicating your working day as much as possible will help you to get in work mode and stay in it.  Start at the same time every day, take your lunch when you usually would and plan your day to allow you to be as happy and productive as you can.
Being Socially Active: The one major thing we are all missing at the minute is are social interactions.  We miss our family, friends and colleagues but thankfully there are a million and one apps that allow you to connect on a daily basis. From Zoom conference calls to Facebook Messenger and everything in between, make time for the people in your life. 
Prioritise Mental and Physical Health: The importance of our mental and physical health can not be overstated.  During lockdown, there are lots of extra pressures on all of this, making sure you take care of your mental and physical health will help you to deal with these added pressures.  From socially distant walks or runs to working out at home, training with Joe Wicks or online yoga classes, there are many ways to look after yourself during this difficult period.