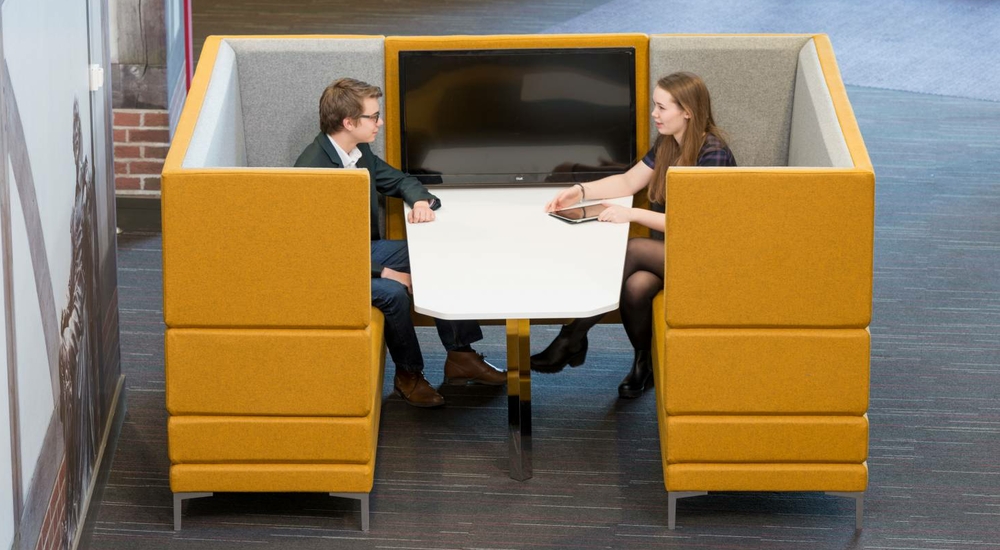 Collaboration allows us to know more than we are capable of by ourselves…
FourUs Media Booth
The purpose of an acoustic booth is to bring people together, to provide a space for collaboration, even in a busy space.  The FourUs Media Booth does just that, offering audio and visual privacy, acoustic properties as well as functionality and comfort.
Railway Carriages
Customisable, flexible and innovative, Railway carriages are ideal for office, social and education settings.  Creating semi-private spaces for meetings, Railway is at home in even the busiest of environments.
Hilly Booth
Hilly is a modular system with 22 individual pieces, that reconfigure to create your ideal layout. There are high and low back options, stand-alone armchairs, sofas and booths. You can add two-tone fabrics and power and data.
Rooms
Rooms, flexible reconfigurable furniture, designed to create informal & formal work space solutions to Meet, Socialise, Focus & Collaborate.  Room's architectural structure offers a suggestion of an enclave, which can be configured with visual & acoustic privacy solutions and tailored with colour and texture to create spaces of different functions.
MAGAZINE/LEAFLET HOLDERS/CANOPY & LIGHTING
Our booths offer a wide range of functional and flexible features that add to the practicality of your space.  Magazine and literature holders can be relocated at will.  The canopy feature not only provides additional audio and visual privacy, it also houses lighting solutions as well as adding to the aesthetic of the booth.
TECHNOLOGY/POWER & DATA
Our booths and pods can be supplied with a range of technology features such as audio and visual equipment, ideal for small scale presentations.  We supply a variety of under-desk, in-desk and desktop power modules including the elegant Peak module (pictured above) which can consist of Power, Data and USB.